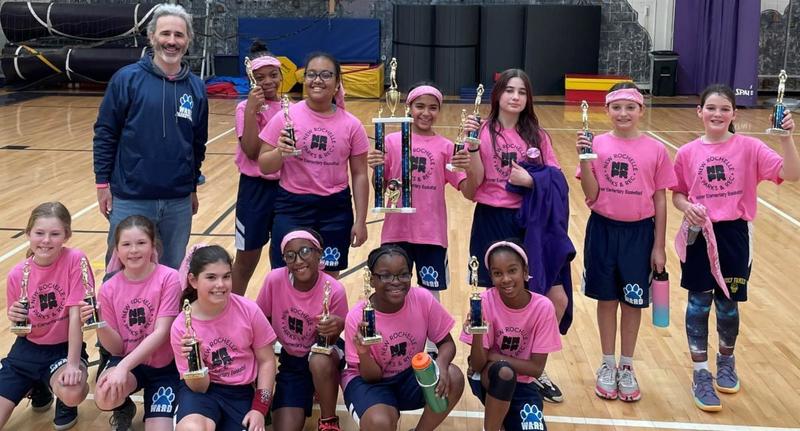 There now are two championship basketball teams at William B. Ward Elementary School!
The Ward Liberty team was crowned champions of the 2022 Girls Winter Elementary Basketball League run by the New Rochelle Parks and Recreation Department in partnership with the City School District of New Rochelle. It is the 13th time the Liberty accomplished this goal.
This year's undefeated squad from William B. Ward Elementary School was led by Crystal Thomas' 22-point effort in the championship over Columbus Elementary School on April 9. Fifth-graders Sage Cappiello, Leela Zung, Hailey Hanney, and Katherine Schwartz provided plenty of support, while fourth-graders Sydney Hoffman, Maria Resvanis, Anaiah James, Alyssa Rogers, Sloane Scheffler, Ella Thompson, and Norah Palermo rounded out the roster. The team is coached by Allie Tarantino, a math and science teacher at Ward. Despite a delayed start to the season and fewer practices than normal, the Ward Liberty rose to every challenge. The only game they played with a full team was the 22-14 victory in the finals, played at New Rochelle High School.
The boys' team, the Ward Warriors, completed its 8-0 undefeated championship season with a win over George M. Davis Elementary School, 19-17. The Warriors were led by an MVP performance by Mason McFarlane, who had 8 points and 10 rebounds. Kenechi Achonolu chipped in with four points and two assists. Ronald Guzman had four points and four rebounds, while Rex Ziogas had five steals. Special thanks to our fifth-grade core leaders: McFarlane, Guzman, Gabe Morse, Kayden Henderson, Christopher Allen, Ben Vinelli, Aimen MacMenamin, Malachi Ceneus, and Elias Castillo. Also thanks to our fourth-graders, who we hope will repeat a championship next season: Davis Matthews, Hudson Broutman, Achonolu, Braxton Miller, Chris Parker, and Rex Ziogas. The Warriors also thank Team Managers Kasim Amin and Alejandro Vinelli for their assistance and keeping us organized throughout the season. The boys were coached by DeParis Banks, Eric Mercado, and Nat Harris.
"It was an amazing accomplishment by both of our teams," said Ward Principal Franco Miele. "I am so proud of the players and coaches!"