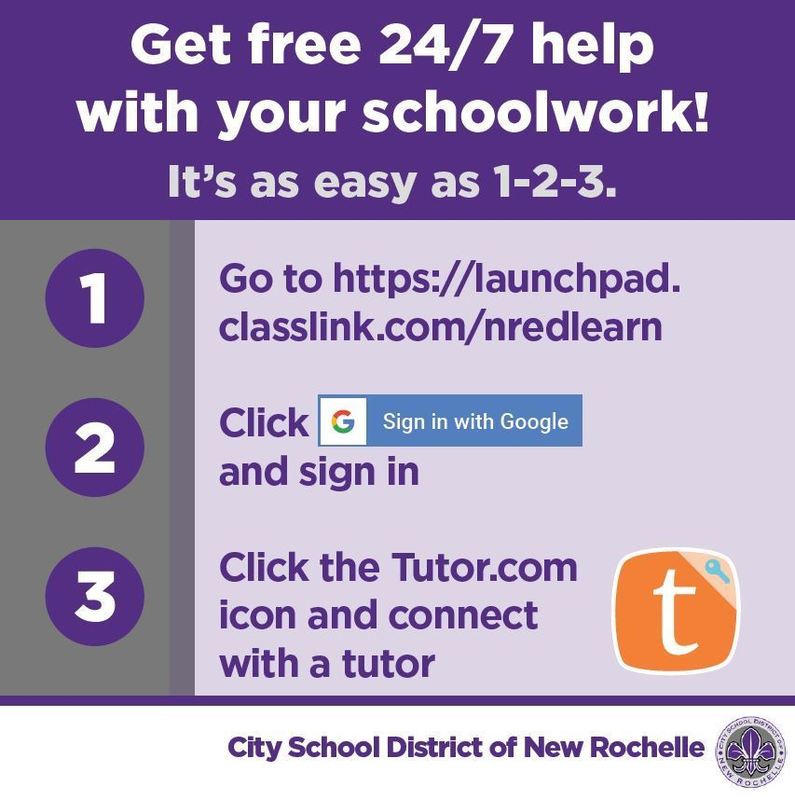 "My tutor was really helpful and didn't just give me the answers; she actually had me think about what the next step would be. Now I understand it, thanks to her!!"
"Amazing; really grateful I can get help at any time -- super useful!! :))"
Those are just a few examples of students' recent feedback about Tutor.com, now available 24/7 to all City School District of New Rochelle students. For the second straight month since being launched, use of this free service has increased! Several schools, such as Albert Leonard Middle School and George M. Davis Elementary School, more than doubled their usage in March compared to February. At Jefferson Elementary School, eight times as many students took advantage during that time span.
Tutor.com's services are free, and access is unlimited. Students connect with live, one-to-one tutors in English or Spanish. But it's not just for homework! Students also can take advantage of Tutor.com's assistance when working on extra-credit projects. They can submit written reports for critiques before submitting them in class. Practice tests can be taken to gauge mastery on subjects or prep for standardized tests such as the SAT, ACT or Advanced Placement exams. If a student is absent but well enough to do schoolwork, and doesn't have access to a teacher, Tutor.com can help. And tutors also can guide students regarding best practices for studying or how to best understand and tackle an assignment.
To promote Tutor.com, schools are providing reminders during morning announcements. Banners have been hung up in schools, and magnets (see photo) have been issued to all students across the district.
Connecting with a tutor is quick and easy: students can access Tutor.com by signing into their school district devices, accessing the school district's launchpad, and simply clicking the Tutor.com icon to start a live tutoring session. Students using a non-district-provided device must sign into Launchpad (https://launchpad.classlink.com/nredlearn) first, then click the Tutor.com icon to access Tutor.com.