Listening to students and joining forces to guide our children toward successful futures was a prevailing theme of a special Superintendent's Town Hall meeting Tuesday, as was the school district's commitment to act.
"This school district and this community have been failing our students for far too long," said Superintendent Jonathan Raymond, acknowledging the community's sadness and frustration after a teenager was shot and killed in the city Jan. 25, and another teen was charged with the crime. "We cannot change what happened, but we can work tirelessly to make sure the tragic events that occurred cannot happen again. That is something we can, and must, do together."
More timely access to caring and supportive adults, enhancing after-school and summer programs, and providing more wraparound support services to students and families were some of the priorities identified at the meeting, attended by about 100 community members at Columbus Elementary School or via Zoom.
Noting that "our students want to learn and want to be successful," but not necessarily within the established school framework, Raymond said that in the coming months, the school district will transform how, when, and where students learn. Efforts will start with the high school and then the middle schools.
"Our beautiful and precious youth will lead our efforts," said Raymond. A Youth Success Model will be developed to facilitate a coordinated approach to social and emotional learning, and to address achievement and equity gaps, poor engagement, and access to enrichment programs and wraparound support services. These will include guidance counseling, mentoring and mental health services, to name a few. These have to be "non-negotiables," Raymond said.

Raymond expressed appreciation to those who attended the meeting, thanking them for sharing their thoughts, ideas, and concerns. "There's a lot of healing to be done," he said, "and it is absolutely essential that we come together, work together, and move forward… with our young people at the heart of it."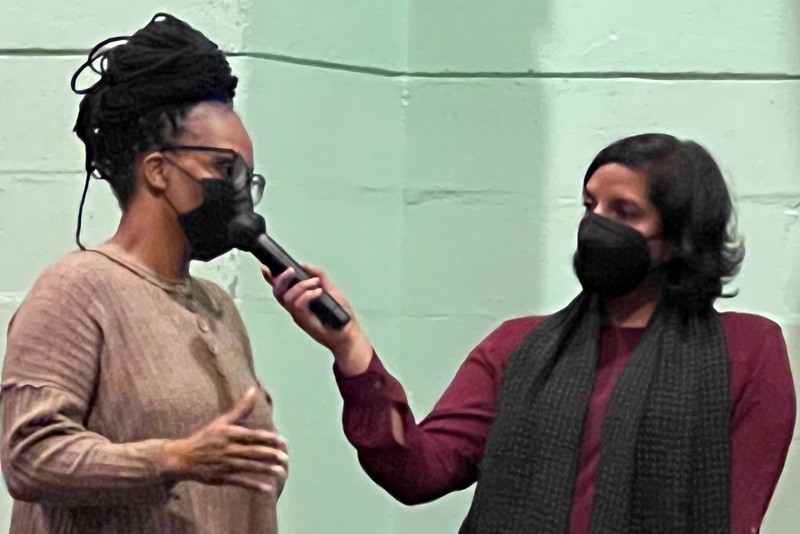 The meeting was attended by several elected officials, including the New Rochelle Board of Education, Congressman Jamaal Bowman, New Rochelle Mayor Noam Bramson, Westchester County Executive George Latimer, Westchester County Legislator Terry Clements, New Rochelle Council Member Martha Lopez-Hanratty, Council Member Yadira Ramos Herbert, and New Rochelle Public Library Board Trustee Daniel Bonnet. Board of Education President Julia Muggia Ochs and Vice President Adina Berrios Brooks (in photo, at right) served as moderators.
Joining Raymond in the panel discussion were Dr. Dagoberto Artiles, Principal of New Rochelle High School; Miriam Rocah, Westchester County District Attorney; and Michael Orth, Commissioner, Westchester County Department of Community Mental Health (in top photo, at right, with Superintendent Raymond). Panelists discussed various resources available and efforts to decrease gun violence.